Published: Thursday, July 23, 2015 11:37 AM
Free health and fitness services, back-to-school supplies, activities and food will be available for families and residents from 10 a.m. to 2 p.m. on Saturday, August 1. State Senator Mattie Hunter (D-Chicago) and the Institute for Positive Living are providing free health screenings. For the first time, Hunter will join the families of victims of violence and families for those who have lost loved ones to breast cancer for consecutive balloon releases at 10:45 a.m.
The 12th Annual Health, Fun & Fitness Fair, located at the Illinois Institute of Technology on 33rd and State St., will offer free eye and dental examinations, health screenings and provide information on nutrition, exercise and holistic health. The festivities will include raffles, prizes, food and refreshment.
"As Chicagoans, we should remember to take care of our loved ones by doing everything we can to make our communities stronger and healthier. Getting active, having fun and remaining safe are all possible when a neighborhood becomes a family," said Hunter.
The event will also feature:
St. Bernard Hospital's pediatric mobile unit – free physicals for students entering 1st, 5th and 9th grades, along with immunizations and lead testing. Parents or guardians must accompany children under 18 for physicals and provide shot records for children in need of immunizations.
Health screenings – blood pressure, cholesterol, glucose, osteoporosis and diabetes
Back-to-school giveaways – Free haircuts, bookbags and school supplies
Free food and entertainment – live performances by the World Champion South Shore Drill Team and the World Champion Jesse White Tumblers on the Main Entertainment Stage.
Raffles and prizes – free passes to the Chicago Children's Museum and Direct Energy's raffles for a Nest smart-learning thermostat for parents and a Kindle for children.
Story time on the Innovation to Inspiration mobile exhibit at 11:45 a.m. with Direct Energy, one of the largest energy and home service providers in North America.
Please share the flyer below: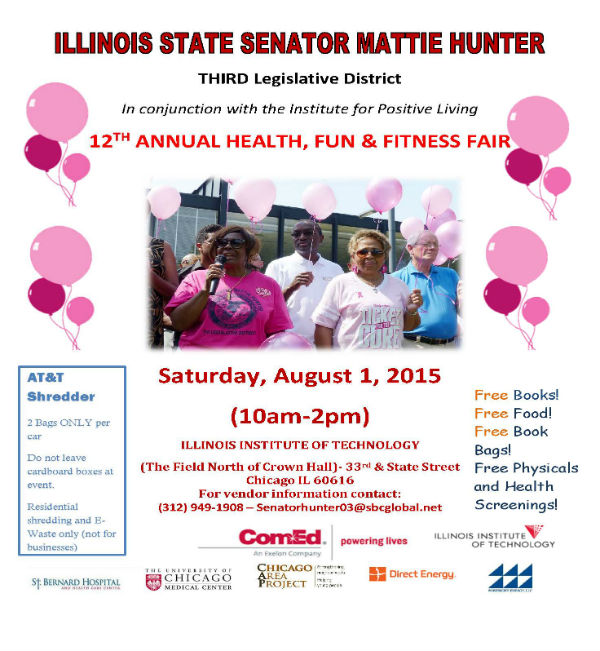 Category: News