Published: Tuesday, November 27, 2018 04:49 PM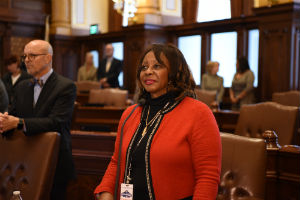 SPRINGFIELD – State Senator Mattie Hunter (D-Chicago) spoke on the Senate floor today in response to the tragic shooting at Mercy Hospital and Medical Center in Chicago on Nov. 29. Hunter read the names of the victims and the Senate observed a moment of silence in honor of those killed in the shooting:
"I rise to speak today with a heavy heart for my community of Bronzeville, where on Monday afternoon, November 19th, a man showed up at Mercy Hospital and Medical Center and opened fire on his former fiancée before turning the gun on others, killing the woman, a police offer and a bystander.
"In a matter of minutes, the city of Chicago lost an emergency room doctor, Dr. Tamara O'Neal, a pharmaceutical assistant, Dayna Less and a police officer, Samuel Jimenez, who were all going about their day, all doing what they loved.
"My heart aches for the loss of Dr. Tamara O'Neal and Dayna Less who have selflessly dedicated their lives to healing others. I am always incredibly grateful to the men and women of the Chicago Police Department but heartbroken for the loss of one of their own. Officer Samuel Jimenez exhibited instinctual bravery and sacrifice during this dangerous shooting and ultimately lost his life.
"Every shooting in America is a tragedy, but it is especially senseless when it happens in a place where people come to heal. This time, the bloodshed violated Chicago's first chartered teaching hospital, a haven and healer that has provided compassionate care to our communities for 166 years.
"What happened at Mercy Hospital was a tragic incident. Another example of what shouldn't happen.
"Thoughts and prayers are not enough, they are actually dismissive of the real gun problem we have in Chicago and in America. No one should have to live in fear that their community will be the next one struck by gun violence.
"It is incumbent upon us as leaders to enact measures that will curb and help end this kind of violence.
"While there is no single reform that could stop every shooting, we know there are big gaps in our gun laws that make it easy for criminals, abusers, troubled children and mentally unstable people to get guns. We need to start closing those gaps in honor of the innocent lives that were lost at Mercy Hospital and the thousands of others who have perished from gun violence."
Category: News