Published: Wednesday, November 28, 2018 02:39 PM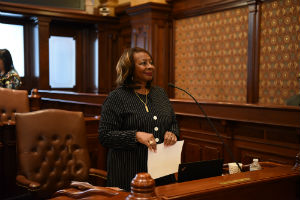 SPRINGFIELD – A new law passed by State Senator Mattie Hunter (D-Chicago) will help provide opportunities for small farmers and community organizers to create urban agriculture zones where communities can grow food for themselves and combat food deserts.
The Senate voted to override the governor's veto of House Bill 3418 today, which allows counties or municipalities to create urban agriculture zones composed of organizations or individuals who grow produce or other agricultural products, raise or process livestock or poultry or whose stock is a minimum of 75 percent locally grown.
"This bill was about offering support to urban farmers and empowering them to grow their own healthy foods," Hunter said. "I am glad we now have the ability to help urban farmers grow and supply fresh, local food to communities that need extra support in Chicago."
Food deserts are defined as areas that lack access to healthy foods or where it is difficult to purchase them, and they are a growing problem in neighborhoods throughout south side and western Chicago, according to Hunter. These zones would empower residents by granting them the resources they need to grow their own healthy foods around the areas they live.
Along with expanding access to fresh food, the bill will also encourage the state's food production to be more independent and sustainable.
"I'd like to thank Representative Sonya Harper for her leadership in the House and her tireless effort to combat food deserts in Chicago," Hunter said. "I am excited that we now have a chance to support urban farmers and help them create a vibrant local food economy."
The motions to override having succeeded in both chambers of the General Assembly, the measure becomes law despite the governor's veto.
Category: News