Published: Friday, June 12, 2020 10:53 AM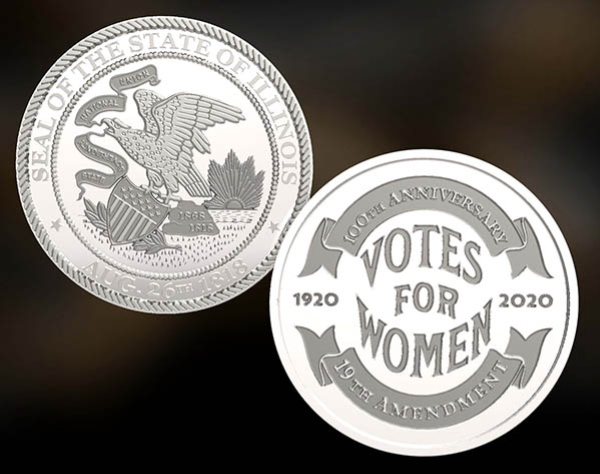 SPRINGFIELD – Illinois State Treasurer Michael Frerichs and State Senators Ann Gillespie (D-Arlington Heights) and Mattie Hunter (D-Chicago) announced a new commemorative state coin this week to celebrate the 100th anniversary of the ratification of the 19th Amendment, giving women the right to vote.
Senate Joint Resolution 28, sponsored by Gillespie and Hunter, authorized the State Treasurer to issue a coin to celebrate the landmark moment in history. The measure was approved unanimously by the General Assembly during the 2019 legislative session.
"One hundred years after women secured the right to vote, I am honored and privileged to celebrate the women who dedicated their lives to the suffrage movement, including African-American suffragists who continued to face racial barriers to the ballot box long after the ratification of the 19th amendment," Hunter said. "Let us always remember and strive to emulate the persistence, courage and grit of these women and all who have fought to give a voice to the voiceless. There is nothing more American."
"I am proud to celebrate the 100th anniversary of our hard-fought right to vote with this commemorative coin and by continuing our work to ensure that all people are included in our democracy," Gillespie said. "We can't take anything for granted and we won't go backward."
The coin was designed by Illinois artists Leslie Bodenstein and Jason Pickleman of JNL Graphic Design. They were selected through a Request for Qualifications (RFQ) process. The coin is being minted by MTM Recognition out of Princeton, Illinois.
Congress passed the 19th Amendment to the U.S. Constitution on June 4, 1919. It was ratified by the Illinois General Assembly on June 10, 1919, followed by 35 other states. The 19th amendment became part of the U.S. Constitution on August 26, 1920.
The coin can be purchased online here.
Category: Uncategorised