Published: Tuesday, May 21, 2019 02:33 PM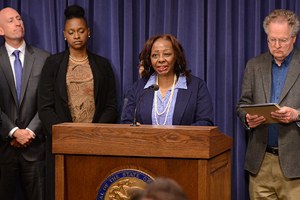 SPRINGFIELD–State Senator Mattie Hunter (D-Chicago, 3rd) joined community leaders and affordable housing advocates from across Illinois at the State Capitol today in calling for more investments in affordable housing in the capital budget.
"Right now, we have an opportunity – one that has not come around in more than a decade – to make a sizable impact on the affordable housing needs of our communities," said Hunter, the Chairman of the Senate's Special Committee on Housing. "There are neighborhoods in my district that are still struggling to recover from the economic crisis and are starved for investment, and I know that many communities across the state from urban, suburban and rural communities face similar challenges."
Last week, Gov. JB Pritzker proposed investing $175 million for affordable housing in the capital budget. Hunter unified with a coalition of housing developers, supportive housing providers, municipal government and community-based organizations to urge the General Assembly to expand on this foundation by allocating additional funds to create stronger communities by expanding access to safe, decent and affordable housing.
Category: Uncategorised