Published: Monday, November 09, 2015 10:25 AM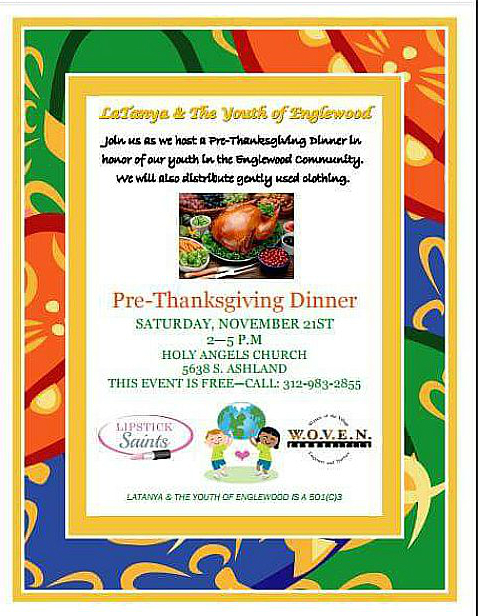 CHICAGO – Residents in need of hot meals and warm clothes can join LaTanya & The Youth of Englewood this Nov. 21 for a free pre-Thanksgiving dinner.
"I would love to see residents working together, looking out for each other, as well as our children," said LaTanya Johnson, the nonprofit's founder. "Englewood has been lacking jobs, resources and the necessary motivation to stay strong as a community. I felt like I needed to do something to help our less fortunate."
The Englewood-native started the nonprofit organization in 2014 to teach youth about self-esteem and the importance of giving back to their neighborhoods.
Johnson is hosting a clothes drive through Nov. 20 and a free dinner at Holy Angels Church, 5638 S. Ashland from 2-5 p.m.
For more information on how to donate, contact Johnson at This email address is being protected from spambots. You need JavaScript enabled to view it. or by calling 312-983-2855. Clothes will be collected at 1622 W. 82nd St.
Related news:
Category: Constituent Services Content