Published: Monday, November 24, 2014 08:47 AM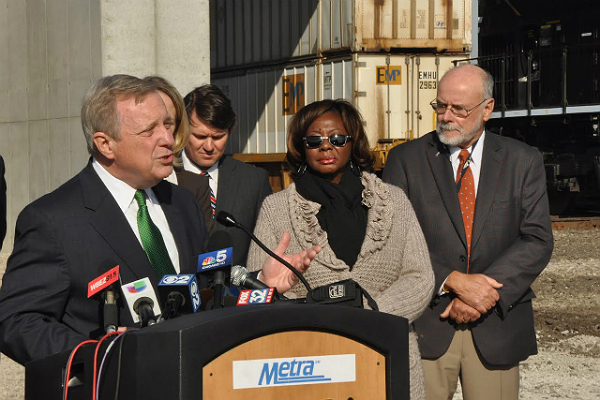 State Senators Mattie Hunter and Martin A. Sandoval joined Metra, last month, to unveil the new $142 million Englewood flyover bridge designed to eliminate one of the nation's worst railroad bottlenecks on Chicago's Southside.
The landmark flyover bridge will decrease Metra and Amtrak train delays for the 140 freight and passenger trains that use tracks each day. Outdated signals and switches made crossing on ground level an arduous process. The century-old maze of track took some trains two days to navigate the city's railroad system.
"Improving the city's outdated railway system will improve riders' commutes and help businesses that rely on timely cargo delivery from freight trains," said State Senator Mattie Hunter (D-Chicago, 3rd District), who represents the Englewood community. "The Englewood flyover is part of a larger push to improve our state's infrastructure. I'm also happy Metra is taking steps toward diversifying its workforce by bringing jobs to the minority community within Englewood."
Englewood is home to one of the country's largest and busiest railroad hubs. The new bridge, the first Chicago Region Environment and Transportation Efficiency (CREATE) Program project, will allow 78 weekday Rock Island Line trains to run without delays caused by roughly 60 freight and Amtrak trains that share the train tracks.
The project's completion will allow CREATE to move forward with the planned 75th Street Corridor Improvement Project, diverting trains on Metra's Southwest Service to the Rock Island District, and the Grand Crossing Project, which will divert six daily Amtrak trains to the Norfolk Southern tracks located east of Englewood.
"Reliability and greater efficiencies will benefit both economy and passenger train riders in Chicago," said State Senator Martin A. Sandoval (D-Chicago, 11th District), Chair of the Illinois Senate Transportation Committee.
The groundbreaking partnership between the U.S. Department of Transportation, the state of Illinois, city of Chicago and Metra is a part of a greater plan to update the state's infrastructure.
The Englewood flyover was funded with $126 million in American Recovery and Reinvestment Act High-Speed Rail funds, $4.9 million in other federal money, $8.2 million from the state of Illinois and $3 million from the railroad industry, including Metra.
Category: Press Releases