Published: Monday, November 10, 2014 02:27 PM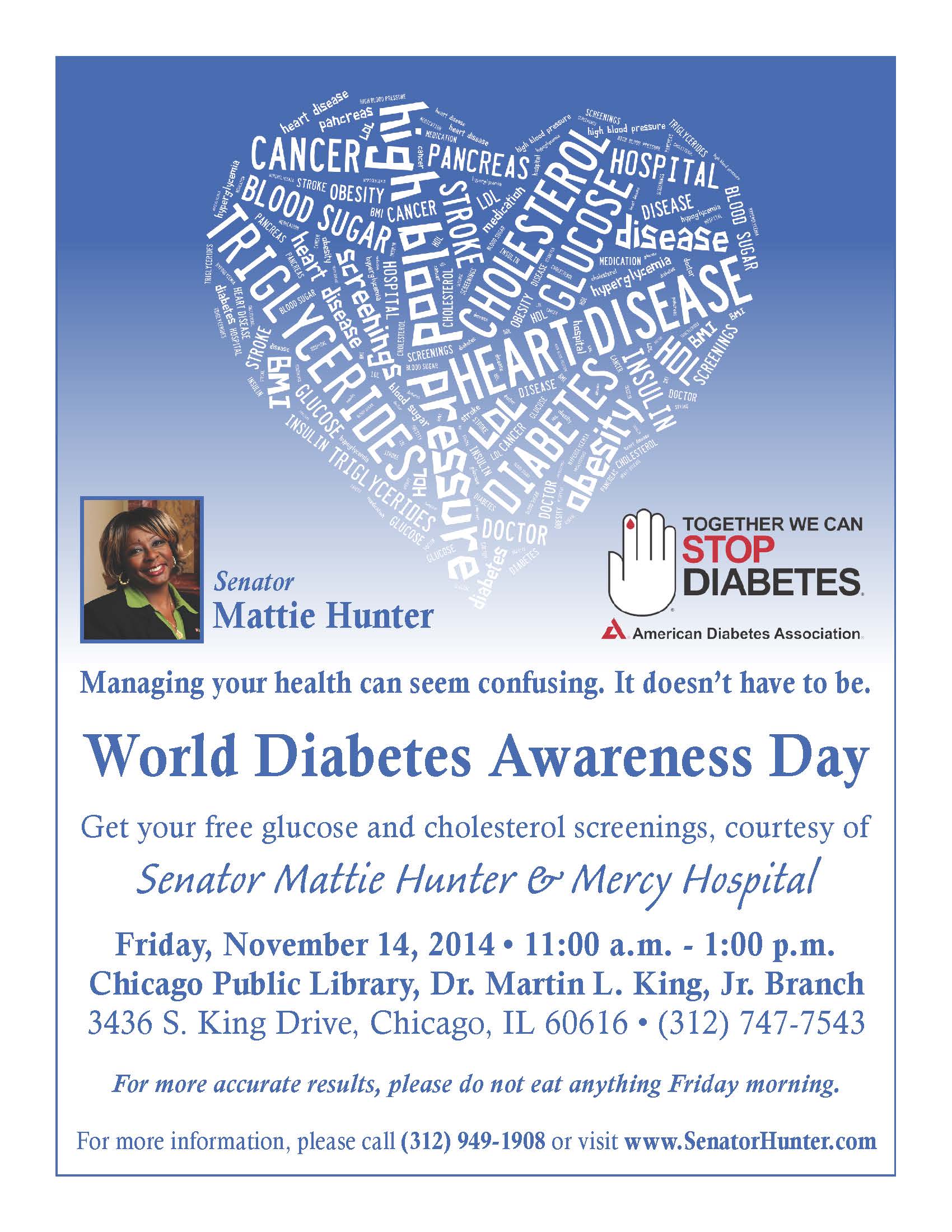 State Senator Mattie Hunter and Mercy Hospital are partnering to provide free glucose and cholesterol screenings on Friday, November 14, World Diabetes Awareness Day, on Chicago's South side. The event is part of a statewide push by the Illinois Legislative Diabetes Caucus to help residents determine if they are at risk.
The free screenings will be held at Chicago Public Library, Dr. Martin Luther King Jr. Branch, 3436 S. King Dr., Chicago, IL 60616 from 11:00 a.m. to 1:00 p.m. Hunter and Mercy Hospital encourage residents planning to receive a screening not to eat anything Friday morning in order to get the most accurate results.
"I have witnessed my friends, family and community struggle with the effects of being a diabetic," said Hunter, sponsor of Illinois' new Public Safe-Care Act, a law protecting insulin users who need to self-administer injections in public places. "Every 20 seconds a new person is diagnosed with this disease. This World Diabetes Awareness Day, Mercy Hospital and I are providing free services to help residents become proactive and know if they are at risk of diabetes."
Nearly half of people with diabetes are unaware they have the condition. Diabetes does not always cause obvious symptoms and can easily be misdiagnosed.
"Early detection can help people manage the disease and prevent health conditions from becoming severe," Hunter said. "I saw my mother battle with the disease, and I want to do my part to increase awareness and help people suffering from this illness."
Read here for more information about the three types of diabetes and warning signs.
Category: Press Releases