Published: Thursday, June 19, 2014 09:31 AM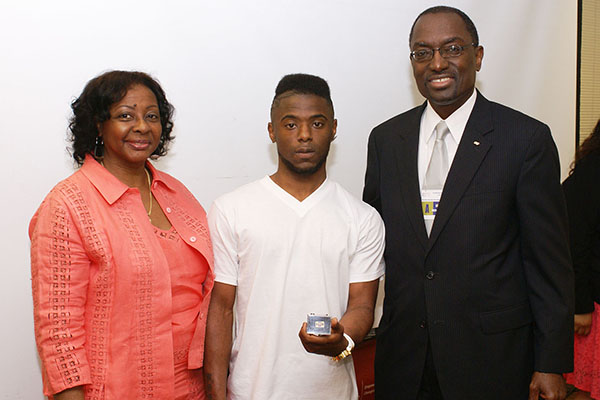 Forty-nine youth workers were honored for completing Chicago Area Project's Advancing Youth Development and Supervising Youth Development Practice programs during a graduation ceremony on April 13, 2012 at the Chicago Urban League, 4510 S. Michigan Ave. The graduates from several community, governmental, and educational agencies throughout the City of Chicago joined more than 4900 youth workers in Chicago and the suburbs who have enhanced their skills through CAPs professional development programs.
Keynote speaker at the graduation ceremony was State Senator Mattie Hunter (D-3). Sen. Hunter saluted the graduates for their dedication to youth work. "I'm looking forward to witnessing the impact that you all will have today and tomorrow," she said. "The partnership between my office and the Chicago Area Project shows how the community and legislators can work hand in hand in order to continue making effective, long-standing change in our communities and in our most vulnerable people—our children and our youth."
Ayoka Samuels, Associate Director of the Gary Comer Youth Center, also spoke. Samuels, a 2014 Phenomenal Woman Award recipient, told the grads that their communities need them. "We have a lot of work to do," she said. "We have a tremendous amount of responsibility to make sure that we do right by the young people that we serve." She also told the grads that getting their certificates was only the beginning. "We need to continue to learn and develop and move forward," she said.
AYD Graduate, Vanessa Westley, an officer with the Chicago Police Department spoke about the community impact of the Advancing Youth Development program. Westley, a 24-year veteran with the CPD, thanked Chicago Area Project for giving her the opportunity to look at this work from a different lens. "I am charged to interact with the whole community in the area of public safety," she said. "However… 75 percent of my encounters will be with Advancing Youth Development recipients, our young people…They are usually in need or in crisis… I can now see that how I interact really measures and dictates my community impact… As I digested the core competencies of a youth worker, it made me really look at my own core competencies and the people I have to influence… I have the responsibility to impact my community for a better change, a better quality of life."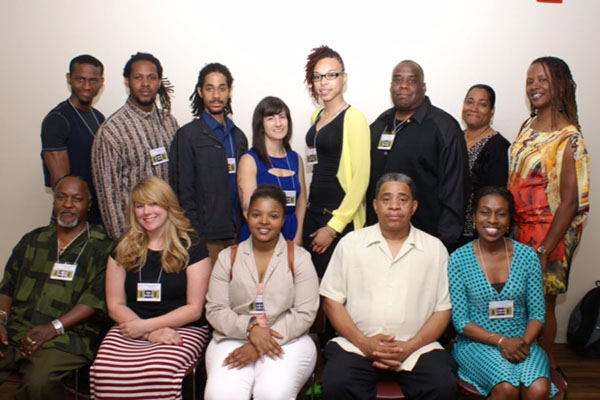 After taking AYD and SYDP, the next speaker, Mathilda de Dios, went on to get her M.A. in Education and Youth Development at the University of Illinois. De Dios, one of CAP's new youth development trainers, shared that her main take-away from AYD was that youth workers are developing inspiring new ways to build new relationships with young people. "The AYD experience gives you the tools to authentically engage with young people in a way that is respectful, not only to them, but to you as a human being," she said. "Now people are looking at adolescent development and youth development. Experts in the room like us who have the experience and now the expertize and now the certification to be able to address the issues of pubic safety and development in ways that are authentic, that are standardized, that are scientifically proven and that work—I see us drastically shaping the discipline practices with young people."
AYD Graduate Jabrii Lee, a member of CAP's Youth As Resources program, also spoke. "This is my first graduation, I'm 21 years old," Jabrii said as he received a loud round of applause. "I've been out of the state penitentiary for not even a year. I was going through a lot… When I went to the AYD class, I was learning how to deal with my problems and I was learning how to help other youth in my hood with their problems too."
Another highlight of the graduation ceremony was a poem presented by AYD Graduate Antonio Monix fellow members of L.Y.R.I.C Mentoring, a grassroots mentoring organization that uses hip-hop and spoken work to teach character development.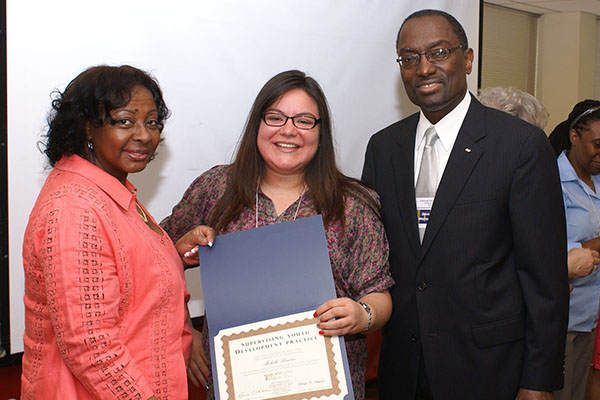 Since 2002, more than 5000 youth workers have graduated from accredited professional development programs managed by Chicago Area Project. "It is important for the city, it is important for the state and it is important for the country," stated Whittaker, "to understand that we are moving into a different direction in terms of our care and concern for our young folks. Chicago is leading the way by uplifting the spirits and uplifting the credentials of youth workers not only in Chicago and Illinois, but this model is being replicated throughout the country. The hope is that in 10 years this will become standard all across the county."
AYD is an introductory national youth development curriculum offered in 18 cities throughout the U.S. and the first step on the route to becoming a professional youth worker. The youth workers benefit by obtaining a professional credential and by moving into the higher education system. Young people benefit from the comprehensive training received by the youth workers with whom they interact.
Each student in the professional development curriculum starts with AYD, a 28-hour curriculum from the National Training Institute for Community Youth Work at the Academy for Educational Development in Washington D.C. The next step is enrollment in SYDP, a program that helps youth worker supervisors become better at their jobs.
AYD classes are held at various locations throughout Chicago.
For information on future AYD and SYDP classes call Sandra Sosa at 312-588-3839.
Category: Press Releases