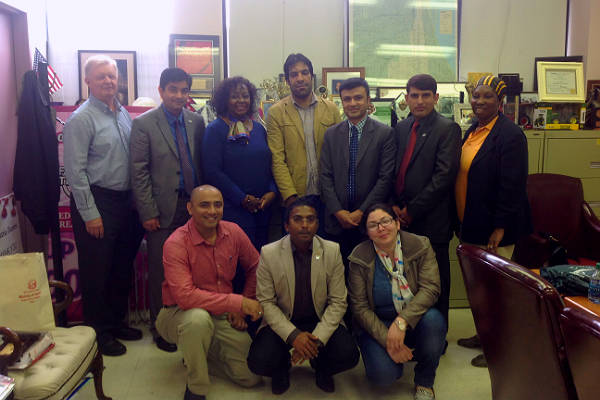 A delegation of international dignitaries met with State Senator Mattie Hunter on June 19 to discuss government transparency and anti-corruption efforts as part of a global exchange. Hunter presented diplomats from Nepal, Maldives, Afghanistan and Pakistan with certificates commemorating the U.S. State Department's International Visitor Leadership Program.
"Building relationships with international diplomats strengthens Illinois. Foreign officials can learn from our progress in government accountability and we can learn from their efforts abroad," said Hunter, who created good government task forces and advisory boards including the Illinois Youth Advisory Board.
The International Visitor Leadership Program, created in 1940, affords current and emerging foreign diplomats the opportunity to build a mutual understanding between nations with American elected officials. Carefully designed professional visits open channels of global dialogue and diplomacy.
Senator Hunter discussed Illinois' role in educating youth to be responsible citizens and public servants, cracking down on corruption and her role in increasing government accountability in the state. In exchange, Hunter learned about governance and citizen participation in other countries.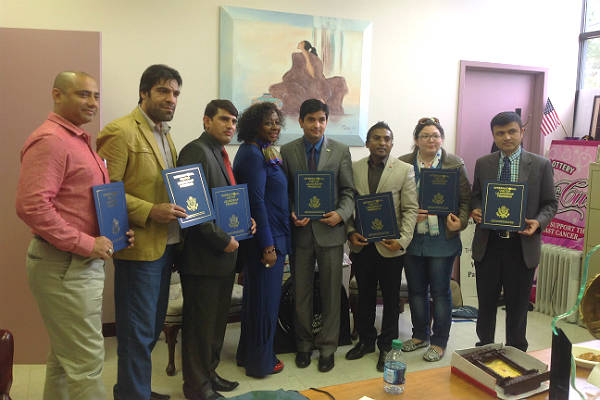 Hunter is pictured with Mr. Imran Bhatti, the additional deputy commissioner 1 from the Government of Sindh in Pakistan; Mr. Mohammad Faizi, the deputy provincial governor of Logar from Afghanistan; Mr. Khagendra Prasad Rijal, the Under Secretary of the Commission for the Investigation of Abuse of Authority from Nepal; Mr. Mohammad Ibrahim, the Oversight and Case Tracking senior manager and deputy chief of the High Office of Oversight and Anti-Corruption from Afghanistan; Mr. Abdulla Rifau, Member of Parliament from the Maldives; Ms. Mariam, the Extractive Industry Monitoring Program Manager for Integrity Watch International from Afghanistan; and Mr. Divas Archarya, the staff assistant for the under secretary of the Office of the Prime Minister and the Council of Ministers from Nepal.