Published: Wednesday, August 24, 2016 09:25 AM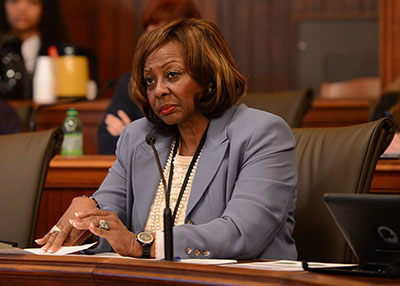 SPRINGFIELD – Families will be able to communicate with incarcerated loved ones at lower costs because of legislation backed by State Senator Mattie Hunter (D-Chicago) that was signed into law Monday.
House Bill 6200 limits the rates charged for telephone usage by prison inmates and prohibits additional service fees. It would cap rates at 7 cents per minute and remove excess charges.
The law aims to address the legal and social injustice of the extreme costs families face when communicating with their children, family and friends.
"Our prison system should be a place for growth and rehabilitation, not profit," said Hunter, who co-sponsored the measure in the Senate. "It's a shame families are faced with a costly burden while maintaining communication with their loved ones. The expense keeps inmates away from their families when I feel they need them most."
Previously, the state of Illinois and the prison's telecommunications providers split millions in profits from collect calls prisoners made to family members at a rate of 11.8 cents per minute.
"This legislation will give inmates and families the opportunity to maintain vital human relationships while they are in prison," Hunter said. "Prisoners should not have to feel alone due to the high costs of a single phone call."
So far New Jersey, Ohio, West Virginia, and now Illinois have taken steps to make these costs more affordable for families
The legislation becomes effective Jan. 1, 2017.
###
Additional legislation backed by State Senator Mattie Hunter signed into law yesterday includes:
• House Bill 5017 - Allows people with juvenile records to petition for their expungement at any time and requires the court to grant the request automatically if the person was never charged, if the charges were dismissed, if the person was found not delinquent, or if the person was given supervision and completed it successfully.
o http://ilga.gov/legislation/billstatus.asp?DocNum=5017&GAID=13&GA=99&DocTypeID=HB&LegID=94377&SessionID=88
• Senate Bill 3005- Requires park districts to determine if a prospective employee has been convicted of specified minor crimes within the past 7 years and specified felonies within the past 2 years; removes many criminal and drug offenses from those specified as influential to the hiring process.
o http://ilga.gov/legislation/billstatus.asp?DocNum=3005&GAID=13&GA=99&DocTypeID=SB&LegID=96338&SessionID=88
• House Bill 2569- Requires defense counsel to explain the negative consequences of a guilty plea that are relevant to a defendant making an informed decision if those negative consequences are reasonably foreseeable.
o http://ilga.gov/legislation/billstatus.asp?DocNum=2569&GAID=13&GA=99&DocTypeID=HB&LegID=88050&SessionID=88
• House Bill 5572- Creates the Sex Offenses and Sex Offender Registration Task Force.
o http://ilga.gov/legislation/billstatus.asp?DocNum=5572&GAID=13&GA=99&DocTypeID=HB&LegID=95001&SessionID=88
• House Bill 6037- Allows courts to consider a defendant's serious mental illness as a mitigating factor for sentencing.
o http://ilga.gov/legislation/billstatus.asp?DocNum=6037&GAID=13&GA=99&DocTypeID=HB&LegID=95556&SessionID=88
• House Bill 6328- Allows people with past convictions to petition for the expungement of arrest records and charges that didn't result in conviction.
o http://ilga.gov/legislation/billstatus.asp?DocNum=6328&GAID=13&GA=99&DocTypeID=HB&LegID=95888&SessionID=88
• Senate Bill 2370- Requires minors to be represented by a counsel when being interrogated.
o http://ilga.gov/legislation/billstatus.asp?DocNum=2370&GAID=13&GA=99&DocTypeID=SB&LegID=93740&SessionID=88
Category: News