Published: Thursday, February 07, 2019 01:26 PM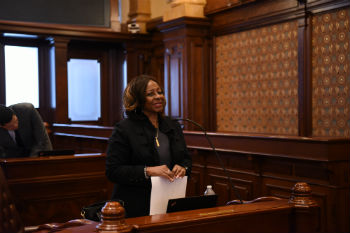 SPRINGFIELD – In an effort to improve wages for the state's lowest paid workers, State Senator Mattie Hunter (D-Chicago, 3rd) voted in support of a minimum wage increase Thursday.
Hunter is a chief co-sponsor of Senate Bill 1, which would gradually raise Illinois' minimum wage to $15 per hour by January 2025. The step-by-step rollout of the increase is designed to allow businesses to adjust to the law and adapt accordingly.
"We have talked long enough about putting Illinois on a responsible path to $15 minimum wage and today is the first step along that path," Hunter said. "This will allow millions of workers in our state to provide for themselves and their families."
While the cost of living has increased significantly, Illinois' minimum wage has remained at $8.25 per hour since 2010. The minimum wage has become the primary source of income for some families, even people living above the poverty line are still facing tough economic times.
"We're giving working families the raise and providing the stability they deserve," Hunter said. "This puts us on the right trajectory to helping people in our state move their lives forward."
Senate Bill 1 passed by a vote 39-12 and now moves to the House for consideration.
Category: News