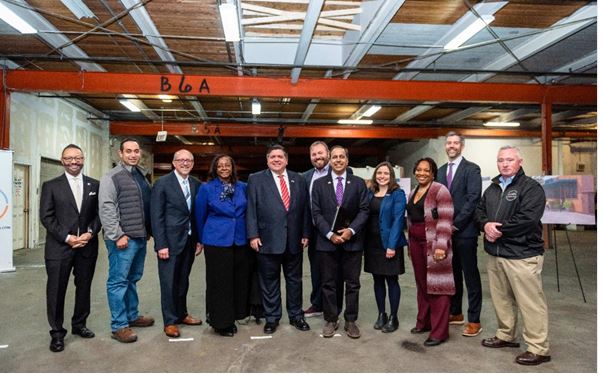 CHICAGO – State Senator Mattie Hunter (D-Chicago) stood alongside Governor JB Pritzker and others to announce a $3 million investment in HIRE360's new training and development center in Chicago's South Loop neighborhood.
It previously received $550,000 in funding through the Illinois Works Pre-Apprenticeship Program.
"Earlier this year, I was happy to see HIRE360 receive half a million dollars in much-needed investments to supplement their pre-apprenticeship program needs. Today, I am ecstatic for the $3 million in additional funding toward a brand new training and development center," Hunter said. "This amazing investment not only supports our organizations and workers, but our local economy as well."
Subsidized by $2 million in state funding and $1 million of federal funds, the new HIRE360 Training & Business Development Center will encompass a 40,000-square-foot space. Included in the new space will be conference and meeting spaces, networking and education areas, working space for 37 trades, a playroom and parents center for working professionals, two commercial training kitchens, retail space for diverse suppliers, event space and more.
The center focuses on training and developing employees in the construction, manufacturing and hospitality sectors. It will provide employment and advancement opportunities, job recruiting and training programs, placement support, mentoring, technical assistance, assistance in securing capital, youth programs, and socially responsible supply chain training.
"I am so excited for the opportunities this will bring underrepresented populations in the trades, such as women and people of color," Hunter said. "They've always had the talent, but often do not have the resources or support to get the chance to show it."
HIRE360 was launched in 2019 by industry leaders to provide a creative solution to workforce development that allows employers and unions to develop and connect directly with emerging members of the workforce.
The center is expected to open for the community later this year.