Published: Tuesday, November 27, 2018 04:49 PM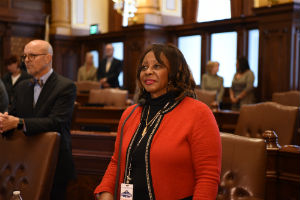 SPRINGFIELD – State Senator Mattie Hunter (D-Chicago) spoke on the Senate floor today in response to the tragic shooting at Mercy Hospital and Medical Center in Chicago on Nov. 29. Hunter read the names of the victims and the Senate observed a moment of silence in honor of those killed in the shooting:
"I rise to speak today with a heavy heart for my community of Bronzeville, where on Monday afternoon, November 19th, a man showed up at Mercy Hospital and Medical Center and opened fire on his former fiancée before turning the gun on others, killing the woman, a police offer and a bystander.
"In a matter of minutes, the city of Chicago lost an emergency room doctor, Dr. Tamara O'Neal, a pharmaceutical assistant, Dayna Less and a police officer, Samuel Jimenez, who were all going about their day, all doing what they loved.
Category: News