Published: Friday, November 02, 2018 11:14 AM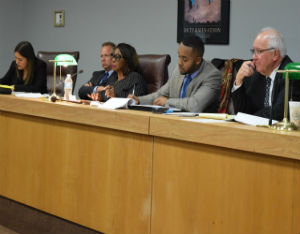 EAST ST. LOUIS – In her last stop on a statewide tour Thursday in East St. Louis, State Senator Mattie Hunter (D-Chicago) convened the Senate Special Committee on Housing to look for ways to address the lack of affordable housing and rising rent prices.
"During our tour we've learned that access to and availability of affordable housing is a challenge in cities like East St. Louis, Urbana and Rockford and in neighborhoods throughout Chicago," Hunter said. "But with rising housing and rental prices, it is crucial that work be done to meet the need for more affordable housing now."
Currently, Illinois is one of 35 states across the country with a rent control ban. Hunter discussed legislation she is sponsoring which would lift the 1997 ban on state and city governments enacting any measure that would regulate or control rent prices on private property.
Hunter's measure would also establish six elected rent control boards, spread around the state, each composed of landlords, tenants and tenant advocates. The seven members of each board would implement and monitor local rent regulation. The bill also pegs annual rent increases to inflation and allows the regional rent control boards to establish the median rent for their areas.
Category: News